Upvc Door Repairs Nottingham
Do you have a issue with a Upvc door? Maybe it's become difficult to lock or unlock or worse still it's completely jammed in a locked position.
Well before you make that call to buy a brand new door why not give us a call and let us fix it.
We can fix any issue you have with a Upvc door and even if the whole mechanism needs replacing it will cost a fraction of what a new door will set you back – our vans are stocked with a huge amount of replacement parts and mechanisms for Upvc doors by the leading makers GU, Millenco, Winkhaus, Yale, Fullex and many many more, so we will be able to repair your Upvc door in just one quick visit.
The most common fault is a misaligned door, through years of opening and closing the door begins to sag causing the locking points to come out of alignment. This will then require more effort to lift the handle and lock the door, if left the extra force needed to lift the handle will cause stress on the locking mechanism and will result in a failure. Acting on the first sign of a misaligned door will save you money in the long run so if your having a issue with alignment give us a call.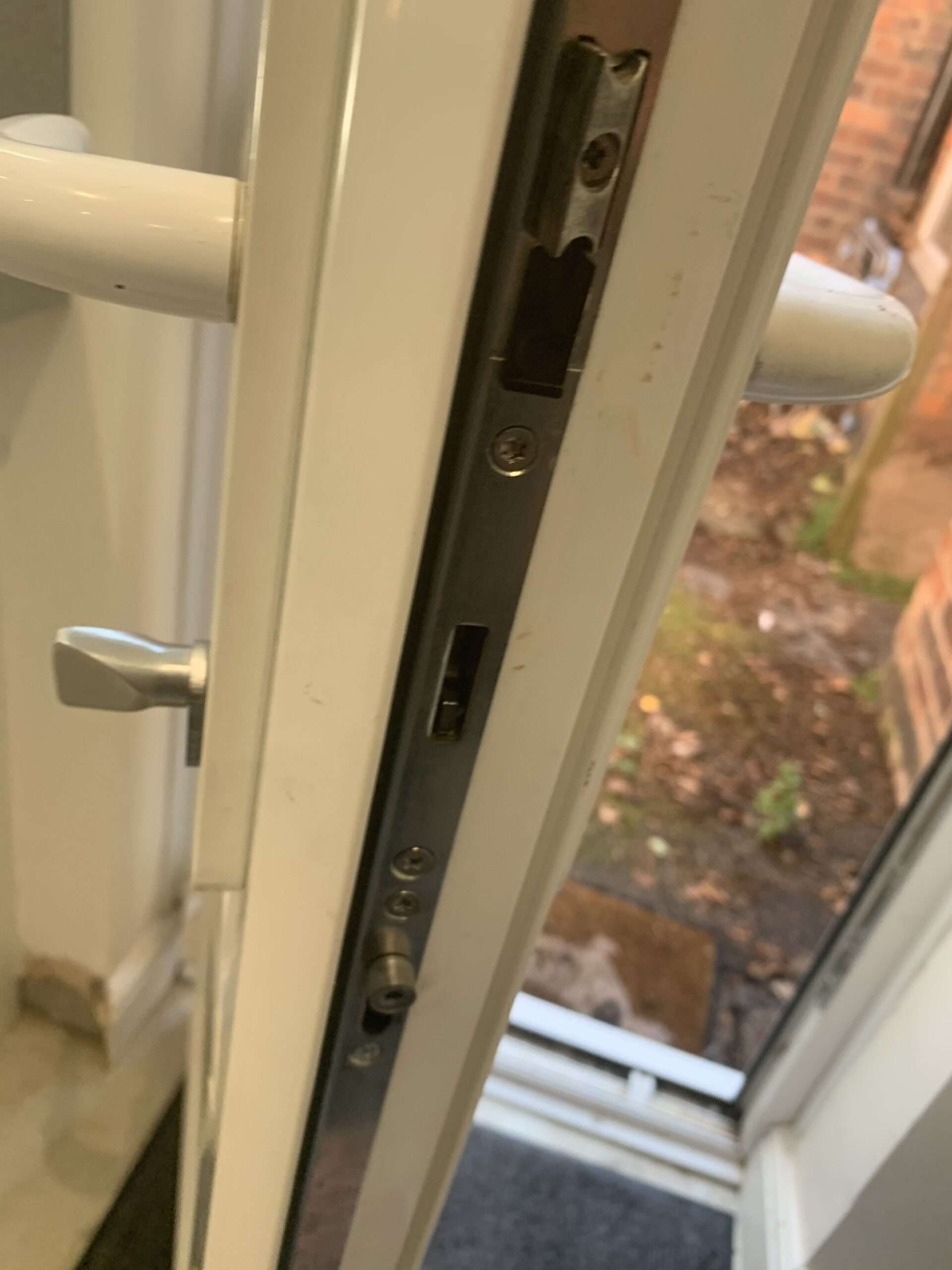 Upvc door lock repairs Nottingham
Maybe due to misalignment or just wear and tear the locking mechanism will one day fail this will leave the door locked in the closed position more often then in the open position as it's that final one last use before it goes kaput! Either way you now have a door that's not doing it's job and will need to be repaired. In almost all cases the break or failure happens in the central part of the mechanism and this can be replaced quickly and affordably.
Another reason to require a Upvc door repair is a fault with the cylinder – the part where the key goes in. Maybe it's tricky to get the key to turn or even in to the lock, maybe you can lock the door but not remove the key until you unlock it or vice versus but it's a Upvc door lock problem you don't want to ignore.
Here at NG Locksmiths Nottingham we don't just fix the fault we will always fix the cause of the fault as well. If you did need new replacement parts to fix your Upvc door, you can guarantee the parts we supply will last for many years to come – all parts supplied by NG Locksmiths come with a comprehensive parts and labour warranty.
Nottingham Upvc door repairs
NG Locksmiths is here to assist with your Upvc door repairs in Nottingham call or message us for advice or quotes